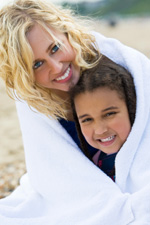 This is the subcategory page for Promotional Beach Towels. If you're looking to buy blank white velour beach towels in bulk, you're on the right page.
If you're a screen printer or embroider, you know these are commodity products. Why pay more somewhere else when you can buy them from us at cheap prices?
Factory Direct Linen has built its business offering the same products as our competitors for less money. We've accomplished this by relentlessly controlling overhead costs and working to improve efficiencies. That's why all of our orders flow through this e-commerce website.
As with all Factory Direct Linen products, our wholesale blank promotional towels are sold in full cases only. These towels are carton packed and ready for immediate shipment.
Looking for Promotional Exercise, Sport Towels?