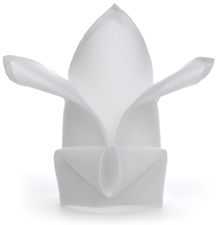 This is the Cotton Napkins category page. At the bottom of this page, you'll find cotton napkins for restaurants and weddings. Each style is available in napkins only (no tablecloths). These wholesale cloth napkins are sold in full cases only.
It's well known within the restaurant industry that polyester table linens offer a superior return on investment over cotton table linens (better longevity, wrinkle resistance, and stain resistance). However, some customers are still drawn to the rich, elegant, natural look and feel of 100% cotton.
Should you buy polyester or cotton napkins? That's a question only you can answer after weighing the pros and cons of each.
At Factory Direct Linen, our experience has been that customers who buy wholesale cotton napkins fall into one of three categories:
1. Restaurants that prefer the soft touch of 100% cotton napkins at the expense of return on investment (characteristics like longevity, wrinkle resistance, and stain resistance).
2. Restaurants that have used cotton napkins for years, care about return on investment, but just haven't made the switch to a high-quality, 100% polyester product (like Milliken Table Linens).
3. The wedding and promotional industries which are predominantly concerned with making a great impression at one big event at the expense of long-term considerations like longevity, wrinkle resistance, or stain resistance.
If you've determined that 100% cotton napkins are right for you, we can help. Below you'll find both cheap cotton napkins and luxurious 100% Egyptian cotton napkins. All are sold in full cases of 50 pieces/case.
Questions? Don't hesitate to ask.