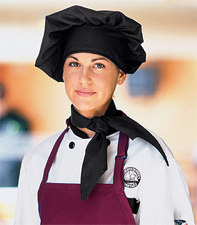 This is the subcategory page for Chef Hats & Accessories. If you're looking to buy high quality, affordable chef hats & accessories in bulk, you're on the right page.

All of the chef hats & accessories below are distributed by Factory Direct Linen under the trade name Chef Designs.

As a professional cook or chef, your work is always being judged by customers and critics alike. However, it's not just your work they're judging. It's also your personal appearance and the appearance of your restaurant.

When you look the part, you enhance the way your work is perceived. The chef hats & accessories on this page will provide you with the necessary detail your chef uniform needs to make the right impression.

Some examples of the products you'll find on this page are chef ball caps, chef hats, head wraps, neckerchiefs, and skull caps. Each is available in a variety of colors to fit most any style preference you may have.

Looking for Basic Chef Coats?