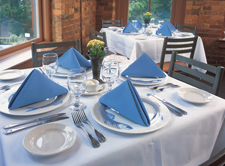 Signature Plus is the most popular commercial table linen fabric manufactured by Milliken & Company. Factory Direct Linen cuts & sews Milliken's Signature Plus fabric into finished table linen products and sells them wholesale through this website.
We've divided the Signature Plus table linens category into five sections: Napkins, Square Tablecloths, Rectangle Tablecloths, Round Tablecloths, and Custom Cuts. Use the "Navigation" box to your right ---------> to view each page.
Milliken's Signature Plus fabric with Soft Touch Technology® is the premier commercial table linen fabric in the United States. The fabric is made of 100% polyester, but has been designed to feel as close to cotton as any polyester table linen fabric on the market.
Signature Plus' popularity and rave reviews are about much more than just its soft touch. Milliken's engineers and chemists were also able to add other important characteristics to the fabric such as color retention after repeated washings, improved soil release, wrinkle resistance, and durability. All this translates into longer shelf life (and lower costs) for you. Factory Direct Linen offers Milliken's Signature Plus table linens in 23 standard colors.
Having trouble deciding whether to buy Signature Plus table linens or Visa Plus table linens? Here's a tip: Choose Signature Plus for softest touch … choose Visa Plus for longevity and wrinkle resistance.
Looking for Signature Plus napkins by Milliken?
NOTE: To learn why Milliken Table Linens are the best choice for your restaurant, click here.