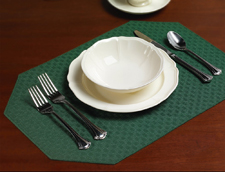 Lattice is one of the most popular commercial table linen fabrics manufactured by Milliken & Company. Factory Direct Linen cuts & sews Milliken's Lattice fabric into finished table linen products and sells them wholesale through this website.
Use the "Navigation" box to your right -----> to view our Lattice restaurant placemats.
Milliken's Lattice fabric is made of two plies of heavy bonded, 100% polyester fabric. This provides extra strength and dimensional stability.
Unlike plainweave fabrics which have no discernable pattern, Milliken's Lattice fabric has a lattice design (in this case, a set of three, short, raised lines that alternate back and forth in opposite directions throughout the fabric). This gives the fabric a crisp, modern look. Lattice fabric is used almost exclusively to manufacture restaurant placemats.
Milliken's Lattice restaurant placemats create the perfect atmosphere for breakfast, lunch or any casual dining occasion. The placemats work beautifully on wood, glass or other decorative table tops. Milliken's Lattice restaurant placemats are available in 15 standard colors.
Looking for Lattice placemats by Milliken?
NOTE: To learn why Milliken Table Linens are the best choice for your restaurant, click here.