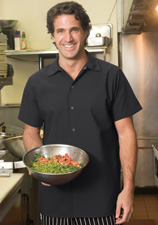 This is the subcategory page for Chef & Cook Shirts. If you're looking to buy high quality, affordable chef & cook shirts in bulk, you're on the right page.

All of the chef & cook shirts below are distributed by Factory Direct Linen under the trade name Chef Designs.
As with all Chef Designs products, these chef & cook shirts have been designed and manufactured for everyday wear in a commercial kitchen. But this product line is about more than durability ... it's also about style and achieving a professional, uniformed look in the kitchen.
From the Black Trim cook shirt to the Checkered V Neck cook shirt to the Snappy cook shirt ... it's obvious style was an important aspect of this product line from the beginning.

Looking for Chef & Cook Pants.