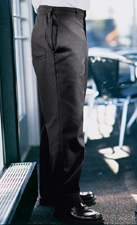 This is the subcategory page for Chef & Cook Pants. If you're looking to buy high quality, affordable chef & cook pants in bulk, we can meet your needs.
All of the chef & cook pants below are distributed by Factory Direct Linen and sold under the trade name Chef Designs.

When you spend hours in the kitchen, comfort matters. Of course style matters too. Why choose between them? With chef uniforms by Chef Designs, you don't have to. We carry chef & cook pants to meet most any comfort or style demand you may have.
Chef & cook pants by Chef Designs are both fun and smart because they look great and are comfortable to wear. Give them a try in your commercial kitchen today … we think you'll agree they're the best value on the market.

Looking for Chef Hats & Accessories?