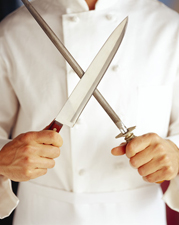 This is the Chefwear category page. We've divided our wholesale chefwear and chef uniforms into 6 subcategories. Use the "Navigation" box to your right ---------> to view each page.

Ever notice how a stylish uniform makes you long for the job that requires it? Our wholesale chefwear products (distributed under the trade name Chef Designs) will do just that. We think you'll be impressed with the value these products offer.

The Chef Designs product line is amazingly comprehensive. The line includes Discount Chef Coats, Premium Chef Coats, Specialty Chef Coats, Chef & Cook Shirts, Chef & Cook Pants, and Chef Hats & Accessories. Between these 6 subcategories we can outfit everyone in your kitchen from the new cook to the master chef ... and everyone in between.

The most frequent purchasers of chef uniforms from Factory Direct Linen are restaurants, country clubs, and banquet facilities. However, promotional products companies and advertising agencies occasionally purchase chefwear too. We don't currently offer screen printing or embroidery services, but we'd be happy to drop ship to your decorator so your logo can be applied.

Not sure where to start? Why not start at the beginning with our Discount Chef Coats.