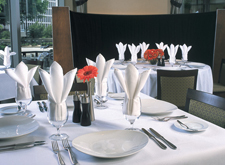 Visa Plus is one of the most popular commercial table linen fabrics manufactured by Milliken & Company. Factory Direct Linen cuts & sews Milliken's Visa Plus fabric into finished table linen products and sells them wholesale through this website.
We've divided the Visa Plus table linens category into five sections: Napkins, Square Tablecloths, Rectangle Tablecloths, Round Tablecloths, and Custom Cuts. Use the "Navigation" box to your right ---------> to view each page.

Milliken's Visa Plus table linen (formerly known as Encore) is the original high performance commercial table linen fabric that revolutionized the wholesale linens industry more than two decades ago. After all these years, it's still a big seller. Factory Direct Linen offers Milliken's Visa Plus table linens in 23 standard colors.

Visa Plus table linen is particularly popular with commercial laundries (companies that pick-up soiled linens from restaurants, launder the linen, and return them to the restaurant clean) because of the fabric's extreme longevity. The ability to rent the table linen more times translates into more profit for the laundry company.

Having trouble deciding whether to buy Visa Plus or Signature Plus table linens? Here's a tip: Choose Visa Plus for longevity and wrinkle resistance … choose Signature Plus for softest touch.

Looking for Visa Plus napkins by Milliken?
NOTE: To learn why Milliken Table Linens are the best choice for your restaurant, click here.