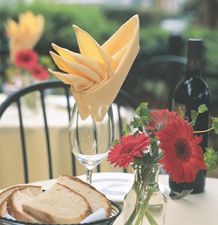 Factory Direct Linen manufactures Genuine Milliken Table Linens for commercial use from Milliken's five most popular fabric styles: Check Pattern, Lattice, Signature Plus, Visa Plus and Wild Rice.
Each style is available in a variety of standard sizes and colors. Use the "Navigation" box to your right ---------> to learn more about each fabric style.

More than 30 years ago, Milliken & Company revolutionized the commercial table linen industry with their cutting edge fabric and Visa® soil release technology. Milliken's products - made of 100% polyester rather than cotton – shocked the industry at the time. In a matter of a few short years, the tide began to turn as polyester overtook cotton and 50/50 blend as the dominant fabric for commercial grade restaurant table linens.

Why the change? Although cotton is very soft to the touch, it doesn't possess other characteristics that make a good fabric for commercial table linen. Cotton tends to hold stains, wrinkles easily, loses color, and "lints out" (a term used to describe the way cotton loses mass with each wash/dry cycle).
Milliken's high-tech polyester fabrics solved these problems. Milliken manufactured fabrics that were highly stain resistant, wrinkle resistant, colorfast, and designed for longevity (fabric that could be used and laundered many times in a commercial environment before wearing out). And, after much research and development, Milliken was able to design polyester fabric that had a feel similar to cotton (particularly their Signature fabric).
For customers primarily concerned with initial cost, we offer a line of discount restaurant table linens. But for customers primarily concerned with best long-term value, Factory Direct Linen strongly recommends Genuine Milliken Table Linens. Yes, your initial investment will be larger compared with discount table linens, but the investment will more than pay for itself in the form of better product performance and extended useful life.
Maybe you've already decided Milliken Table Linen is the right brand for your restaurant, catering company, banquet facility, or party rental store and now you're wondering: Why buy Milliken Table Linens from Factory Direct Linen? It's a fair question.
The reason is because our prices are low, we ship fast, and our staff is knowledgeable. Also, we save the details of each order inside your account for easy re-ordering in the future. There's no need to remember which products you ordered last time or in which quantities and colors.
If you have any questions about how to buy Milliken Table Linens, please don't hesitate to contact us. If you're just now learning about Milliken Table Linens, a brief description of each fabric style is below. (For further research - or to buy - use the "Navigation" box above to visit the pages of interest to you.)
Check Pattern - A 1"x1" check pattern fabric repeated consistently and continuously throughout the fabric.
Lattice - A two-ply, heavy bonded fabric with a lattice pattern (in this case, a set of three, short, raised lines that alternate back and forth in opposite directions throughout the fabric) used almost exclusively to make commercial grade placemats.
Signature Plus - A plainweave. Currently the most popular of the Genuine Milliken Table Linen fabrics. Known for its soft touch relative to other polyester fabrics. Your best overall choice if you don't mind sacrificing a small amount of longevity for improved softness.

Visa Plus - A plainweave. The original high performance commercial table linen fabric. Still your best choice if longevity is your primary concern. A favorite of commercial laundry companies.
Wild Rice - A slub weave fabric that mimics the look of Irish linen (sometimes called "linen look"). This fabric helps create a casual, but still elegant dining experience.
Not sure where to start? Why not start at the beginning with Check Pattern restaurant table linens by Milliken.