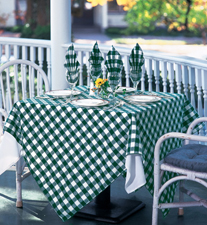 Check Pattern is one of the most popular commercial table linen fabrics manufactured by Milliken & Company. Factory Direct Linen cuts & sews Milliken's Check Pattern fabric into finished table linen products and sells them wholesale through this website.
We've divided the Check Pattern table linens category into five sections: Napkins, Square Tablecloths, Rectangle Tablecloths, Round Tablecloths, and Custom Cuts. Use the "Navigation" box to your right ---------> to view each page.
The check pattern design itself is made with 1"x1" square boxes which are repeated continuously and consistently throughout the fabric. (This design is sometimes called "gingham check".) Each box is either a solid color, white, or half-tone.
Some check pattern fabrics are printed and therefore visible only on one side. Milliken's Check Pattern is created using 100% polyester dyed yarns (a better quality, more expensive process) that make the pattern visible on both sides.
Milliken's Check Pattern, available in 5 standard colors, creates the perfect dining atmosphere when casual style with a picnic flare is desired.
Looking for Check Pattern napkins by Milliken?
NOTE: To learn why Milliken Table Linens are the best choice for your restaurant, click here.