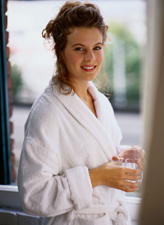 This is the subcategory page for Shawl Collar Bath Robes. If you want to buy wholesale shawl collar bath robes in bulk, you're on the right page. Bath robes are one size fits most.
Shawl collar bath robes have a traditional look with a wide, folded collar. This gives the collars (and therefore the bath robes themselves) a heavier, more substantial appearance.
The traditional look of the shawl collar style makes it popular with hotels and spas that want to create a classic (less trendy) customer experience.
The "Velour" finish is made with terry loops, but the loops have been sheared (cut) leaving a short, soft stubble. This gives the robes a cleaner look.
Hotels, spas, and bed & breakfasts are the largest purchasers of our kimono bath robes. However, we also supply a number of promotional and advertising companies as well.
CASE PACK: Shawl Collar Bath Robes are sold 12 pieces/case. All products are sold in full cases only.