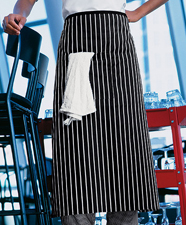 This is the subcategory page for Bistro Aprons (also called Café Aprons). If you're looking to buy everyday bistro serving aprons in bulk for your wait staff, you're in the right place.

Bistro aprons are stylish and functional "front of the house" serving aprons. They're worn around the waist, are very long (below the knees), and are manufactured with/without various pockets. The pockets can be used to store an order pad and pen, among other things.

All of our bistro aprons feature reinforced stitching to prevent tearing and ensure long life.

Our wholesale bistro aprons are made from durable, commercial grade fabric (65% polyester / 35% cotton) that has been properly dyed for a high-quality finish.

CASE PACK: Bistro Aprons are sold 12 pieces/case. All products are sold in full cases only.