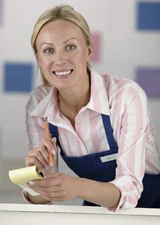 We've divided our wholesale aprons into 7 subcategories (Bib, Bistro, Child, Cobbler, Tuxedo, Waist, 4-Way). Use the "Navigation" menu to the right to browse these subcategories.

Aprons are outer garments used to protect the body and clothing. They're used in commercial kitchens, domestic housework, and many industrial trades. Aprons are made from a wide variety of materials to support their varied uses.

Factory Direct Linen aprons are used primarily as wholesale restaurant aprons. However, many are also used as promotional aprons when purchased by screen printers, embroiderers, promotional products companies, and advertising agencies.

We don't offer screen printing or embroidery services at this time. However, we'd be happy to ship our wholesale blank aprons to your decorator if you'd like to have your custom logo or message applied. With our cheap prices, this will surely save you some hard earned money.

All of our aprons are made from durable, commercial grade fabric (65% polyester / 35% cotton) that has been properly dyed for a high-quality finish. All feature reinforced stitching to prevent tearing and ensure long life.

CASE PACK: Aprons are sold 12 pieces/case. All products are sold in full cases only.