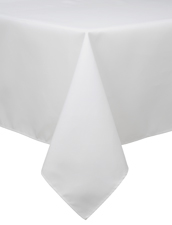 This is the subcategory page for Discount Banquet Tablecloths. If you're looking to buy cheap banquet tablecloths for restaurants with reasonably good quality, you're in the right place.

The discount banquet tablecloths below are made of 100% spun polyester. The fabric is dyed using a jet dye system that provides colorfastness and even color distribution.
The yarn is manufactured on a state-of-the-art Murata (MJS) air jet spinning system that creates long staple fiber yarns. The result is a stronger, softer, more absorbent tablecloth compared with other low cost poly tablecloths.

These commercial grade banquet tablecloths are imported by Factory Direct Linen in large volume and sold wholesale on this website in full cases only.

Looking for Discount Round Tablecloths?