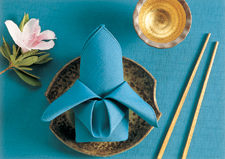 Wild Rice is a fantastic, lesser known commercial table linen fabric manufactured by Milliken & Company. Factory Direct Linen cuts & sews Milliken's Wild Rice fabric into finished table linen products and sells them wholesale through this website.
We've divided the Wild Rice table linens category into five sections: Napkins, Square Tablecloths, Rectangle Tablecloths, Round Tablecloths, and Custom Cuts. Use the "Navigation" box to your right ---------> to view each page.
Wild Rice is a 100% polyester fabric that offers the look and feel of a textured linen weave (commonly referred to as "linen look"). This linen look provides an excellent enhancement to a casual dining setting. Milliken's Wild Rice table linens are available in 14 standard colors and sold in full cases only.
Like all Milliken commercial table linen fabrics, Wild Rice holds its color and maintains its shape better than any other brand on the market. And with VisaŽ soil release technology, the fabric resists stains making the product a much smarter investment than paper or ordinary napkins and tablecloths.
Looking for Wild Rice napkins by Milliken?
NOTE: To learn why Milliken Table Linens are the best choice for your restaurant, click here.