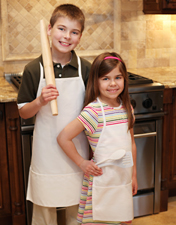 This is the subcategory page for Child Aprons. If you're looking to buy bib aprons for children or young adults in bulk, you're on the right page.

Child aprons have both practical and promotional uses. On the practical side, they're a cover-up apron for everything from arts & crafts projects to cooking in the kitchen with an adult. On the promotional side, they offer a great opportunity to screen print or embroider a children's logo or message.

We've seen an explosion of interest in aprons for kids in the past few years. As a result, we've pulled these aprons out of the bib aprons subcategory and presented them here on their own page.

The two aprons shown below are identical in all respects except for their size. The small size (13"x19") is for kids between 40"-50" in height. The regular size (20"x25") is for kids 50"-60" in height. Both sizes are available in white only.
Our wholesale child aprons are made from durable, commercial grade fabric (65% polyester / 35% cotton) that has been properly dyed for a high-quality finish. They feature reinforced stitching to prevent tearing and ensure long life.

CASE PACK: Child Aprons are sold 12 pieces/case. All products are sold in full cases only.