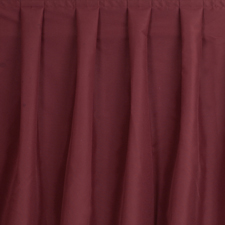 This is the subcategory page for Box Pleated Table Skirting. If you're looking to buy banquet table skirting in the box pleated style, you're on the right page. The box pleated style is characterized by a wide, 3" pleat at the top of the skirt.
Our box pleated table skirting is made from Milliken's Visa Plus fabric and is available in 24 standard colors. This is the same fabric we use to make restaurant table linen.
Visa Plus is a commercial grade fabric meant for use in a banquet facility or restaurant. Visa Plus fabric offers the best longevity, colorfastness, soil & stain release protection, and wrinkle resistance on the market today.
All wholesale table skirting manufactured by Factory Direct Linen is 29" high x the stated number of feet in length. However, we can make table skirts any length you need. The lengths you see below are the most popular. To determine how many feet you need, simply measure the distance you want to cover ... this is the length you need for 1 skirt. Round up to the nearest whole foot (e.g. 20' 3" = 21').
A strong, thick 3" wide plastic clip is automatically included at no additional charge for every 9" of table skirting purchased. Banquet table skirts by Factory Direct Linen are sold 2 skirts per case.
Looking for Shirred Table Skirting?