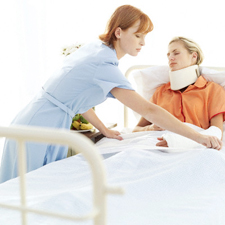 This is the subcategory page for Healthcare Fitted Bed Sheets.

The products shown below are a complete list of the healthcare fitted bed sheets we offer. Each is manufactured by Thomaston Mills and distributed by Factory Direct Linen.

Healthcare fitted bed sheets are specially made for the shape and contour of beds found in the healthcare industry. Elevation of the head or foot of the bed will expose improper fitting if properly sized hospital fitted bed sheets are not used.
The hospital fitted sheets below marked ATLAS are an import version of REGULAR with slightly lower quality. Those marked REGULAR are regular quality.

When ordering, keep in mind that healthcare fitted bed sheets are packed 24 pieces per case and sold in full cases only.
Looking for Healthcare Draw Sheets?