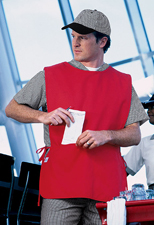 This is the subcategory page for Cobbler Aprons. If you're looking to buy cobbler aprons in bulk, you've come to the right place.
Wholesale cobbler aprons by Factory Direct Linen are sold 12 pieces per case. We offer volume discounts at quantities of 10 cases and 25 cases.

Cobbler aprons are casual service aprons. They're most popular in restaurants and cafeterias, but are also widely used in retail stores and at events.

The cobbler apron style is characterized by two equal size/shape pieces of fabric that cover the front and back of the torso. There's a cut out for the head; tie strings are at the bottom of the apron on each side. The apron is finished with matching bias binding trim all the way around – inside and out.

The wholesale cobbler aprons listed below are identical except for their size. Both are available in a range of colors. Both have two lower divisional pockets which are perfect for making change or storing an order pad. And both are made of a high quality 65/35 polyester/cotton blend fabric that will stand up to commercial laundering.

Are you a looking for a high quality, low cost cobbler apron to screen print or embroider? If yes, both of the wholesale cobbler aprons below will decorate beautifully.
Looking for Tuxedo Aprons?