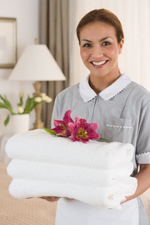 This is the subcategory page for wholesale Hotel Towels. Because of the large number of products, we've further divided this subcategory into 6 additional subcategories. Use the "Navigation" box to your right ---------> to view each page.
You're probably here because you own or manage a hotel, motel, resort, or similar lodging property and are looking to buy wholesale hotel towels at cheap prices. Or, you might own or manage a spa, health club, or similar service oriented business and are looking for a low cost wholesale linen distributor. Either way, Factory Direct Linen can meet your needs.
If you've ordered from us in the past, you're familiar with our online sales model and product lines. If you're new to Factory Direct Linen, here's what you need to know about our company and our wholesale hotel towels:
Our sales model is entirely web-based. This keeps our costs (and your prices) low. On the following pages, you'll be presented with 6 different brands of wholesale hotel towels ranging in quality from 1 star – 5 stars. A brief overview of each page appears below:
Classic (1 Star) - For our most budget conscious wholesale linen customers only.
Merlin (2 Stars) - A great option for wholesale linen customers on a budget, but with quality needs that exceed Classic.
Oxford Cam (3 Stars) - The best mid quality hotel towels on the market.
Oxford Dobby (blend) (4 Stars) - Our most popular upscale hotel towels.
Imperiale (cotton) (4 Stars) - A 100% cotton version of the towel above.
Miasma (5 Stars) - Our highest quality towels. Made of 100% miasma cotton (very similar to micro cotton). These towels are elegant, soft, and absorbent. Perfect for spas or other luxury service providers.
NOTE: All of our wholesale hotel towels are made with 100% cotton loops (even the blended towels). Here's how it works: The polyester is in the base (also called the "ground") of the towel. This extends the product's useful life without affecting absorbency.
Use the "Navigation" box above to learn more about each style and, if you're ready, to place an order. Not sure where to start? Why not start at the beginning with our Classic wholesale hotel towels?