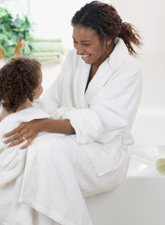 This is the Bath Robes category page. We've divided our wholesale bath robes into 2 subcategories: Kimono Bath Robes and Shawl Collar Bath Robes.
There's just something about bath robes that make even the most common surroundings feel more elegant and luxurious. Isn't that the kind of atmosphere you're trying to create at your hotel, spa, or bed & breakfast?

But in order to make them cost effective, you need to buy bath robes in bulk. That's exactly what we offer you here at Factory Direct Linen.
We import our wholesale bath robes from factories overseas in full containers (think of a container the size of a railroad car filled with bath robes). We re-sell them wholesale to customers just like you on these pages - in full cases of 10 or 12 pieces depending on the product.
So who buys wholesale bath robes from Factory Direct Linen? Usually hotels, spas, bed & breakfasts, retail stores, embroiderers, and promotional products distributors.
Ready to buy wholesale bath robes for your company? We recommend starting with our Kimono Bath Robes.