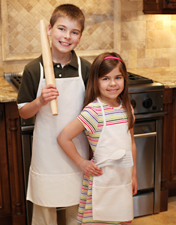 This is the subcategory page for Child & Kids Aprons. If you're looking to buy bib aprons for children or young adults in bulk, you're on the right page. Our child and kids aprons are sold 12 pieces per case. We offer volume discounts at quantities of 10 cases and 25 cases.

Child and kids aprons have both practical and promotional uses. On the practical side, they're a cover-up apron for everything from arts & crafts projects to cooking in the kitchen with an adult. On the promotional side, they offer a great opportunity to screen print or embroider a children's logo or message.

We've seen an explosion of interest in wholesale child and kids aprons in the past year. As a result, we've pulled these aprons out of the bib aprons subcategory and presented them here on their own page. The two aprons shown below are identical in all respects except for their size.

Wholesale child & kids aprons by Factory Direct Linen are available only in white and only in the two sizes you see below. As always, we're interested in your feedback. Would you like to see us offer these aprons in colors? In more sizes? Take a minute to give us your feedback. If enough customers share your need, we'd be happy to make adjustments.

Looking for Cobbler Aprons?