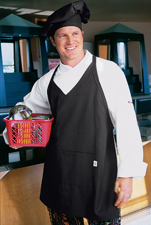 This is the subcategory page for Tuxedo Aprons. If you're looking to buy tuxedo aprons in bulk for your restaurant or catering business, you're on the right page.
Wholesale tuxedo aprons by Factory Direct Linen are sold 12 pieces per case. We offer volume discounts at quantities of 10 cases and 25 cases.

Tuxedo aprons are formal bib aprons for the "front of the house". They're frequently used as serving aprons. Like the traditional bib apron, the tuxedo apron's characteristics include a strap that goes around the neck which connects to the "bib" which covers the chest.

Unlike the bib apron, the tuxedo style cuts into a "V" or "U" shape below the neck at the chest. This effect gives the tuxedo apron a decidedly more formal look.

All of the wholesale tuxedo aprons listed below are made from a high quality 65/35 polyester/cotton blend. All have adjustable neck straps and multiple lower pockets. All are one size fits most. And all have been designed and manufactured for commercial use.

Are you a looking for a high quality, formal bib apron to screen print or embroider? If yes, all of the wholesale tuxedo aprons below will meet your needs.

Looking for Discount Waist Aprons?