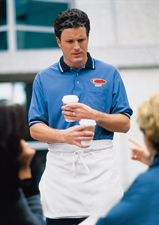 This is the subcategory page for 4-Way Aprons (also called Bar Aprons). If you're looking to buy 4-way aprons in bulk, you're on the right page. As with all Factory Direct Linen products, wholesale 4-way aprons are sold in full cases only.

We've set case packs to appeal to the widest possible range of customer needs (from small restaurants to large commercial laundries). High quality wholesale 4-way aprons are sold 12 pieces per case. Cheap wholesale 4-way aprons are sold 120 pieces per case.

Few aprons take as much abuse as the 4-way apron. They tend to be found wherever the hardest work is being done in a restaurant or bar. As a result, it is an apron that values substance over style.

4-way aprons are easy to identify. Their primary design characteristic is the location of the tie string which can be found halfway down the rectangular apron on its narrowest width. When worn, only ¼ of the apron's surface is visible at any one time. This gives the staff member four clean quarters to use throughout his shift.

Looking for Discount Bib Aprons?