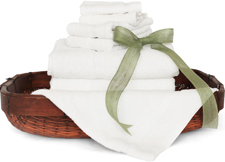 This is the subcategory page for Oxford Cam hotel towels. We believe these are the best mid quality hotel towels on the market.
Oxford Cam hotel towels are made of an 86/14 cotton/poly blend 16s ringspun with a cam border. (Our blended towels are made with 100% cotton loops. The polyester is in the base of the towel for longevity.) They're available in bath mats, bath towels, hand towels, pool towels, and washcloths of various sizes/weights.
The Oxford Cam hotel towels you see below are all from the same "family". This means they form a matching set. Each line item is sold individually (rather than pre-grouped into sets) so you can buy only the line items you need.
As with all Factory Direct Linen products, Oxford Cam hotel towels are sold wholesale in full cases only. These towels are carton packed and ready for immediate shipment.