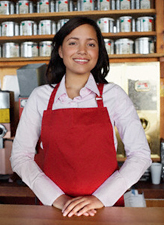 This is the subcategory page for Bib Aprons (also called Chef Aprons). If you're looking to buy high quality bib aprons in bulk at very affordable prices, you're in the right place.

Bib aprons are the most traditional apron style. Popularized in the 1950s, the style's popularity began to wane in the 1960s and 1970s with the success of the women's movement. Today, the bib apron's popularity is back with a vengeance … this time for both men and women.

Of course, bib aprons never lost popularity in commercial kitchens. Chefs, cooks, and wait staff have continued to rely on bib aprons as the first line of defense against spills and stains.

In addition to their widespread use in restaurants, bib aprons are also very popular for promotional use. This is because the bib portion of the apron offers the perfect opportunity to display a custom logo or message. Also, many promotional campaigns are created for home/kitchen products or have home-oriented themes. Few products communicate these themes better than the iconic bib apron.
Bib aprons range in length from just below the waist to just above the knees. The bib portion of the apron covers most of the upper torso. A neck strap and waist ties secure the apron to the body.
Our bib aprons are manufactured with and without various pockets and with or without an adjustable neck strap. All feature reinforced stitching to prevent tears and ensure long life.