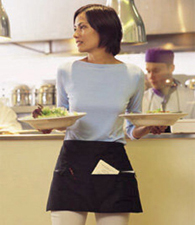 This is the subcategory page for Waist Aprons (also called Server Aprons or Serving Aprons). If you're looking to buy high quality waist aprons in bulk for your restaurant wait staff, you're on the right page.
Waist aprons are "front of the house", traditional food service aprons. They're used most often by waiters and waitresses in a restaurant or cafeteria. However, these aprons are also used by workers at events such as ticket takers.
Are you a looking for high quality waist aprons for promotional use? If yes, our waist aprons will screen print or embroider beautifully.

Our waist aprons listed below are designed to withstand the tough working conditions of a commercial restaurant environment. In addition to quality fabric, these waist aprons feature reinforced stitching to prevent tears and ensure long life.

There are various styles of wholesale waist aprons listed below.